Enjoy a Relaxing Gong Bath
Relax on a yoga mat with a pillow and cosy blanket as you listen to the soothing sounds of Gongs, Himalayan Bowls and Crystal Bowls. Come and see what it is like to immerse yourself in a landscape of enchanting sounds. Nourish your system as you enter a sustained, deep state of meditative relaxation.
Reduce stress and anxiety
Improve sleep and energy levels
Feel positive with a sense of wellbeing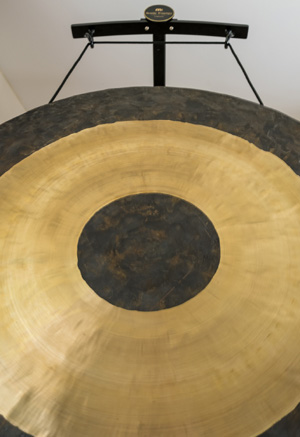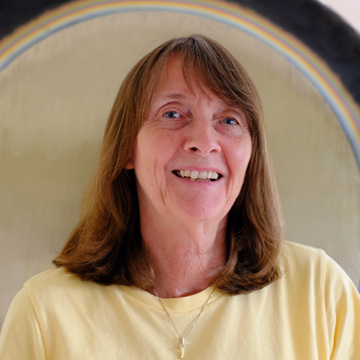 Gong practitioner, musician, teacher
Sue's professional background is in senior music education and research. A more recent shift in direction towards exploring the healing potential of sound through gongs and a range of other therapeutic instruments has developed through extensive training with The British Academy of Sound Therapy (BAST) and one of the world's leading gong practitioners, Sheila Whittaker.
Sue feels that her journey as a musician has always been leading to this point and the fulfilment she obtains from working with gongs is beyond measure. Sue is a compassionate, sensitive and intuitive musician and she invites you to embark on a journey towards a more balanced state of being — an adventure that can initiate healing, growth and change. Her vision is to introduce as many people as possible to the potential benefits of sound therapy.
Sound therapy is a gentle, therapeutic treatment that has been shown to encourage an overall improvement in health and wellbeing. Give yourself the gift of an hour of your time to be gently eased into a deep, nourishing sense of calm and you remember what it feels like to stop and rest.
As the Gong Bath progresses your brain waves will gradually slow down and move from a state of wakefulness (Beta) into a meditative state where Alpha and Theta brainwaves predominate. This is achieved through the process of entrainment as the brain waves lock into phase and synchronize through sympathetic resonance with the sound waves produced by the instruments.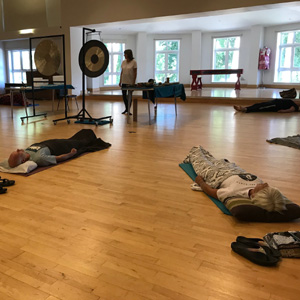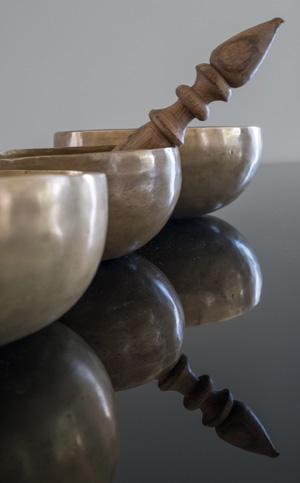 Group Gong Bath £20.00 (1 Hour)
These are arranged by Sue at local venues to provide an enjoyable shared experience with like-minded people, family and friends. There is time to chat 10-15 minutes before the start time as you set up your yoga mat, pillow and blanket — and time after to share experiences with others after the Gong Bath as you ground yourself and come back into the space.
Corporate and Private Group Events
Sue specializes in providing sessions in educational settings for staff, pupils and parents. Bespoke events can be organised at local community centres, church halls, hotels or private venues to provide an inclusive activity for wellbeing programmes or an exclusive event for friends and family.
Sue will need to check the suitability and size of the venue to ensure that there is adequate space for the instruments as well as the participants. The cost will depend on where you are, the accessibility of your space, the number of attendees, the duration of the session and if you wish to have a presentation prior to the Gong Bath.
Individual Gong Bath £60.00 (1 hour)
Gong Bath for Two £60.00 (1 hour)
1:1 or shared sessions allow you to experience a Gong Bath tailored to your specific needs. You have the added benefit of being in a nurturing space at Sue's home with the opportunity to speak freely in the knowledge that anything you say is in strictest confidence.
Allow an extra 15 minutes for the first visit to discuss your needs and be introduced to the instruments.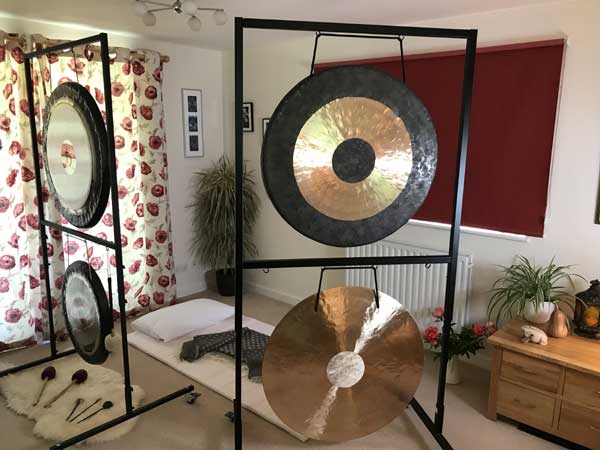 "I LOVED IT!!!! I was really tired, combination of work and young children!!! Both children are now much better at sleeping through but I often wake up and then can't get back to sleep. After the Gong Bath I had the best night's sleep in ages. My whole body felt relaxed and I drifted off easily too which doesn't always happen. I've been feeling pretty zen ever since.....might need another one during the teaching assessments!!"
"Yesterday's Gong Bath session was unbelievably lovely - I floated out both fully energised and deeply calm. You create such a peaceful and nurturing space. I have no idea how you create such a range of sounds and flow so harmoniously between instruments. Blissful!"
"Sue created a calm and inviting atmosphere, and she demonstrated the various instruments before embarking on the session so that we knew what to expect and how everything worked. The session itself was deeply relaxing; I lost track of time and extremely surprised to learn that an hour had passed. The depth and range of sounds that were achieved was quite staggering, and there was a real sense of structure and progression. We started with singing bowls, before moving onto the gongs themselves - these are magical! We finished with a variety of more energising sounds to bring us round from our deep relaxation. I'm a total convert and I look forward to the next session."
"I found this session energising and rejuvenating - it made me feel like hopping and skipping, so carefree! I took a deep breath and felt the sensation of floating - it was surreal and I felt very happy and peaceful feelings wash over me. The haunting sounds were quite wonderful and dream-like. My hands and joints are no longer painful (arthritis) and the pain relief lasted for several days. I feel happy and more energetic and my sleep improved after the session."
"When I first went to a Gong Bath I was not really sure what to expect. Sue gave a lovely introduction about what I might feel and I was quite amazed how time seemed to disappear as I shut my eyes and listened to the sounds. During the first session I sneaked a look at my watch and was astonished to find that nearly 50 minutes had passed....it felt like 5! Every time I have gone I seem to experience different things, sometimes colours in my mind, strange feeling in odd joints and weightlessness to name but a few. The overarching feeling at the end of the session is of a relaxed self which has a positive effect that lasts sometimes for days. I also sleep better after a session."
"An immensely useful and powerful session. Despite knowing a bit about energy and sound healing already this just blew me away. The positive difference it made was evident straight away and the benefits carried on for days afterwards. I slept like a log, aches and pains noticeably reduced and I found more clarity and focus too. Working with Sue offers a double whammy effect! She is a skilled musician (with that extra trained ear) and then an intuitive, kind and non-judgemental person on top. That combination really works on another level, quite literally. My session was extraordinary. Thank you!"
"After a year of doing everything for everyone else it was such a joy to take some time for me. The Gong Bath experience was utter relaxation and I was on the edge of sleep when it ended. This was amazing because I have terrible insomnia at the moment and haven't slept properly in months. I haven't let go like that for a long time and it was wonderful. I saw waves of colour during the gong section, deep purple and black radiating upwards, which was both beautiful and calming. This was my second Gong Bath and I thought your idea of demonstrating all the bowls and gongs beforehand was brilliant; there was no temptation to peek to see what was making that ethereal sound! I floated home, kissed the kids, had a nap and have felt wonderful ever since. Thank you, Sue. You're very talented and I'll definitely come again."
Please contact Sue to find out more or book an event or session.
You too could benefit from the kind of experiences described above.
Reduce stress and anxiety
Improve sleep and energy levels
Feel positive with a sense of wellbeing
Feel a sense of wellbeing